Charlie's TRS-80 MC-10 web page.
Software and Links for the TRS-80 Micro Color Computer Model MC-10.
Click HERE for my Color Computer page.

These MC-10 programs are in .WAV format. (audio files)
These files can be played back on the PC, with the MC-10
Cassette cable plugged in to the PC audio out.
You can also use the Cassette cable with an Ipod or other
Media player to load them on a MC-10.
Also, the Virtual MC-10 emulator has the ability to load .WAV files.
Pac-Man for the MC-10 by Greg Dionne !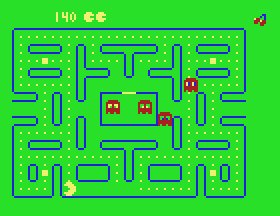 This is a machine language program. CLOADM
Games I made for the MC-10 : (click name to download)
---
Games not by me but edited by me:
Asteroids 64 - by Rogelio Perea. Added High Score counter and some text. Avoid the Asteroids!
Road Race - from Programs for the TRS-80 COCO & MC-10 by William Barden Jr. Added real time input.
(So you don't have to keep tapping the keys to move, you can just hold the key)
Games that were sold in Radio Shack:
Lost World Pinball – ML Pinball Game. CLOADM to load and EXEC to run.
Micro Games – Includes Breakout, Eggs, Horse Racing, Lunar Lander and Pong.
Micro Checkers – Play checkers against your MC-10.
Click HERE for Micro Checkers instructions. **Needed to play!
Other software:
Extended Basic - by Gary Furr. Adds 27 new commands to the MC-10 basic. (CLOADM)
Click HERE for the Extended Basic manual.
Sound - by Gary Furr. Demonstrates different sounds the MC-10 can make.
Emulation:
Virtual MC-10 .69b – A great MC-10 emulator for your PC.
C10TOWAV is now included with Virtual MC-10 emulator
Converts Virtual MC-10 .C10 files to WAV so you can record them to tape and use on a MC-10!!
The MC-10 Joystick:
You can easily create a 2 axis 1 button joystick for the MC-10. I chose to modify a working Atari 2600 joystick and I recommend this to others.
It is very easy to do with basic soldering skills. Click HERE and check out the joystick diagram.
Click HERE for joystick versions of games found on this page. These include:
Asteroids, Bomb Drop, Breakout, Defend, Demon Attack, Freeway, and Road Race.
Links:
Yahoo! Groups : trs80mc10club – Talk with others about the MC-10 HERE !!!
My MC-10 Homepage – A great MC-10 site with lots of files.
Yet Another Tandy/Radio Shack MC-10 Web Site – Great information for MC-10 basic programmers.
Jim and Charlie Gerrie's Software Page - Excellent MC-10 software and games.
Page created by: chazbeenhad@hotmail.com